Top Pick
2021 1 oz American Eagle Gold Coin

The American Gold Eagle is an official gold bullion coin of the United States. Authorized under the Gold Bullion Coin Act of 1985, it was first released by the United States Mint in 1986. The Gold Eagle is a 22K Gold coin with 1 troy ounce of fine gold. The gold eagle has a legal tender value of $50 USD.
NOTE: This product Ships to USA only.
For years, clients like you have trusted us to provide unparalleled guidance, up-to-date insights and high-quality bullion products. As the go-to choice for every kind of investor, we deliver competitive prices that are backed by a reliable reputation.
Save based on the quantity you buy,
and the way you pay.
The 1 oz coins are guaranteed by the U.S. government to contain the stated amount of actual gold weight in troy ounces. By law, the gold must come from sources in America, alloyed with silver and copper to produce a more wear-resistant coin.
The 22 kt gold alloy is an English standard traditionally referred to as crown gold. Crown gold alloys had not been used in U.S . coins since 1834, with the gold content having dropped since 1837 to a standard of 0.900 fine for U.S . gold coins. For American Gold Eagles the gold fraction was increased again to .9167 or (22 karat). It is authorized by the United States Congress and is backed by the United States Mint for weight and content.
The obverse design features a rendition of Augustus Saint-Gaudens' full length figure of Lady Liberty with flowing hair, holding a torch in her right hand and an olive branch in her left, with the Capitol building in the left background. The design is taken from the $20 Saint-Gaudens gold coin which was commissioned by Theodore Roosevelt to create coins like the ancient Greek and Roman coins.[1] The reverse design, by sculptor Miley Busiek, features a male eagle carrying an olive branch flying above a nest containing a female eagle and her hatchlings.
Only available for US orders for delivery to the US. Because the coins are not investment grade of .999 pure gold and higher, they are taxable in Canada.
*Coin(s) received may not be exactly as shown but are equal in value and quality.
Country of Manufacture

United States

Mint

United States Mint

Origin

West Point, New York

Purity

.9167

Dimensions

Diameter: 32.7 mm

Average Thickness

2.87 mm
Legal Tender

US $ 50

Designer

Miley Busiek (obverse), Rendition of Augustus Saint-Gaudens Lady Liberty (reverse)

Obverse

Rendition of Augustus Saint-Gaudens Lady Liberty, the year minted and the word "LIBERTY"

Reverse

A male eagle carrying an olive branch flying above a nest containing a female eagle and hatchlings; the words "UNITED STATES OF AMERICA"; phrases "e pluribus unum" and "In God we trust". The weight and 50 dollars are also listed.

Packaging

-

IRA Eligible

Yes

RSP Eligible

No
How It Works
Buy bullion in 4 easy steps.
It's the easiest way to make online purchases and to access your order history anytime.
With an online account you'll also be able to place orders 24/7, to confirm payments, and receive notifications. You don't need an online account for individual orders, but it is the easier, faster option.
Provide us with your credit card number to secure your price before buying.
We won't charge your credit card for the amount of your purchase; this is simply to lock in the price and validate the sale. The hold on your credit card will then be released within 5-10 business days.
3
Choose your
payment method
Your options include online bill payment, money order, personal cheque and more.
Payments are due within 5 days. Please note that we do not accept payments using third-party cheques and payments, direct deposits or cash.
Once you confirm your payment, we'll send you confirmation of the purchase.
If you don't receive an email confirmation, check your Spam or Junk Mail folders. Within 2 business days of cleared payment, we'll ship all your packages out, and they'll arrive within 10 business days or sooner.
You May Also Like
International Storage
Your bullion is insured, securely stored and segregated from metals belonging to other clients. You'll even get free shipping on select storage options.
See Storage options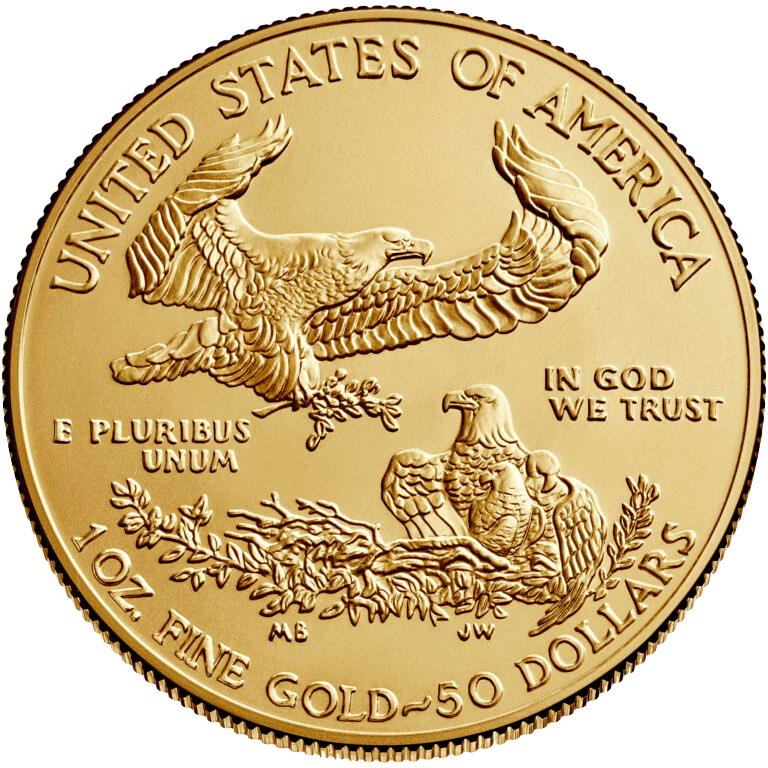 Top Pick
2021 1 oz American Eagle Gold Coin