News
The Grind of Silver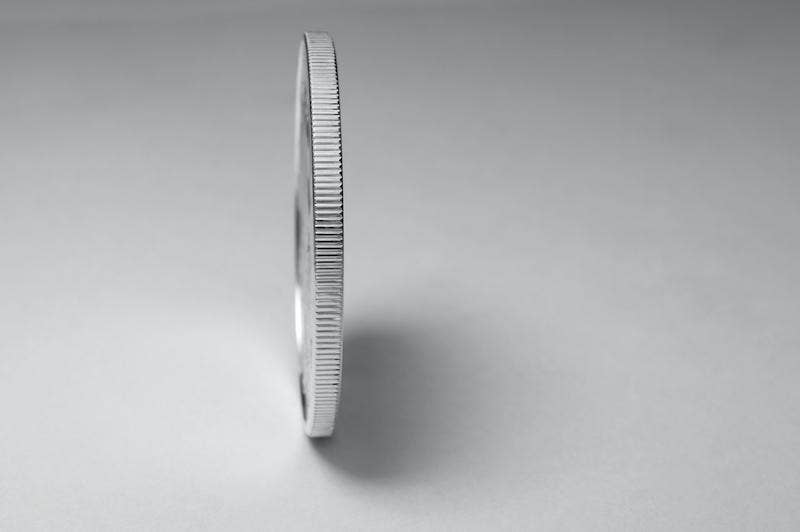 Did you know you can get the Sprott Money Weekly Wrap Ups, Ask The Expert, 
special promotions and insightful blog posts sent right to your inbox?
Sign up to the Sprott Money Newsletter here.
It has been a challenging and frustrating year thus far for COMEX silver. Inflation is raging while interest rates are falling, yet COMEX silver prices are down year-to-date. This has left many silver investors wondering: Is there still hope for a renewed rally, or has all of this become a lost cause?
Things have been particularly challenging as of late. Before the June FOMC meeting, COMEX silver was up on the year and trading near $28. After the meeting, it fell into a four-week range where price seemed trapped between $26.00 and $26.50. And now, after a sharp selloff over the past few days, price is barely holding above $25.00. That places price down about 5% year-to-date.
But I'm not going to complain too much today as I'm just glad we're still holding above $25. That may not sound like much, but in the grand scheme of things, it's more important than it may seem. Why? Because even though we're all frustrated by the lack of follow-through so far this year, the proper way to view the long term chart is through the lens of consolidation.
After spending SEVEN YEARS trapped between $14 and $18, COMEX Digital Silver finally surged from $20 to $30 in just THREE WEEKS last year. That quick move has led to what is now a consolidation phase as the "market" digests and recalibrates to a new price range that is more than 50% above the previous range. Again, that previous range persisted for over seven years! That's a long time for producers, suppliers, users, and investors to get accustomed to low and stable prices.
And now, after that three-week surge in late July and early August 2020, the silver world is still adjusting to a new price range that is over 50% higher than the 2013-2019 time period. It takes a while for that to sink in, and price must persist at these higher levels for it to become the "new normal" across the supply/demand chain.
So, in this light, perhaps this year's frustrating grind sideways is more understandable? Please understand, I'm not willing to forgive or ignore the role that The Banks and the CFTC play in allowing the manipulation to persist. However, if we look at the past ten years on a weekly chart, we see a clear breakout and a flag/consolidation. That flag is a range bounded by $22 at the bottom and $28 at the top. What is the median or middle? $25. And that's why holding above $25 is so important to me.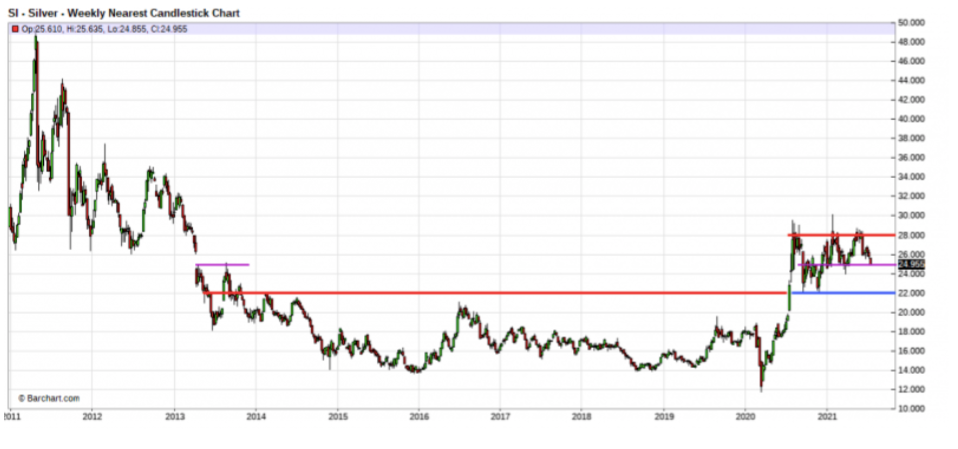 Putting this all together, let's answer the question posed in the first paragraph. Is there still hope for a renewed rally, or is silver a lost cause? The analysis and chart above should make it clearer.
A rally in COMEX silver above $28—where price closes two weeks in a row above this key level—will constitute an upward breakout. This will lead to a move to $30, and once above there, $34 and higher.
A drop in COMEX silver below $22—where price closes two weeks in a row below this key level—will constitute a break down. This will lead to more selling and a likely continued fall to $20 or even lower.
Until then, price remains rangebound in this new normal, averaging around $25 per ounce. We'll keep watch—and you should, too—for any signs that price is moving up and onward or down and out. As usual, I hope for all of us that it's the former and not the latter.
Product Upselling Spotlight
The more you know, the more wisely you invest.
Feeling inspired to invest in silver? Browse our selection of silver bars, coins, or our exclusive Sprott Silver.
Best Seller Royal Canadian Mint 100 oz Silver Bar
Best Seller 1 oz Canadian Silver Maple Leaf Coin (Random Year)
About Sprott Money
Specializing in the sale of bullion, bullion storage and precious metals registered investments, there's a reason Sprott Money is called "The Most Trusted Name in Precious Metals".
Since 2008, our customers have trusted us to provide guidance, education, and superior customer service as we help build their holdings in precious metals—no matter the size of the portfolio. Chairman, Eric Sprott, and President, Larisa Sprott, are proud to head up one of the most well-known and reputable precious metal firms in North America. Learn more about Sprott Money.
Learn More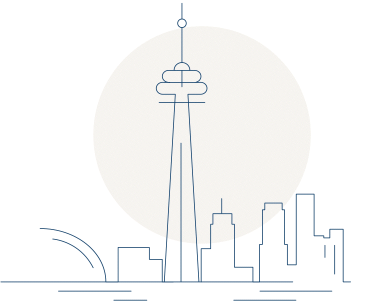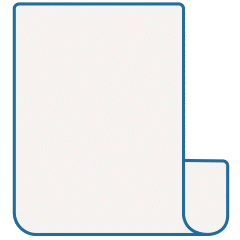 Subscribe to Our Email Newsletter
Don't miss a single insight. Get the latest precious metals news sent to your inbox every week, including our Monthly Precious Metals Projections, Ask The Expert podcast, and the Sprott Money Monthly Wrap Up.