Top Pick
1 oz Great Britain Britannia Gold Coin (Random Year)

The Britannia 1 oz Gold coin is a highly sought-after coin by investors and collectors alike. The Britannia coin contains 1 oz. of 0.9999 fine Gold.
For years, clients like you have trusted us to provide unparalleled guidance, up-to-date insights and high-quality bullion products. As the go-to choice for every kind of investor, we deliver competitive prices that are backed by a reliable reputation.
Save based on the quantity you buy,
and the way you pay.
The Britannia coin contains 1 oz. of 0.9999 fine Gold. Features The Royal Mint's guilloché obverse design. Obverse: Effigy of Her Majesty Queen Elizabeth II, along with the face value of 100 pounds. Reverse: Britannia is poised with her trident, helmet, and British shield. She stands at the water's edge in flowing robes while looking out to sea, a celebration of Britain's glorious history of sail; inscription 'Britannia; Year, Weight, Purity The Britannia Gold coin is backed by the British government A radial sunburst design behind Britannia adds anti-counterfeiting protection Sovereign coin backed by the British government. The Britannia 1 oz Gold coin is a highly sought-after coin by investors and collectors alike. Add this coin to your cart today! You can always reach out to Sprott Money with questions. Our team is available at 1888-861-0775, online using our live chat, and via our email address sales@sprottmoney.com History A fixture on Royal Mint's coins for more than 2,000 years, Britannia has been the female personification of Britain for centuries, embodying our changing ideals and values throughout history. She has come to embody national pride, personifying what Britain represents and upholds. The Royal Mint makes other denominations, but none are as famous as the 1 oz Gold coin. Before 1990, Britannias from the U.K. were made with an alloy comprised of both Gold and Copper. The mint then began to use a Silver alloy for the coins and finally moved to .9999 fine Gold in 2013.
Country of Manufacture

United Kingdom

Mint

British Royal Mint

Origin

Llantrisant, Pontyclun, Mid Glamorgan CF72 8YT, United Kingdom

Purity

-

Dimensions

Diameter: varies

Average Thickness

varies
Legal Tender

£100

Designer

-

Obverse

Britannia holding a trident and shield, weight, purity, Britannia name & year.

Reverse

Effigy of Queen Elizabeth II

Packaging

-

IRA Eligible

Yes

RSP Eligible

Yes
How It Works
Buy bullion in 4 easy steps.
It's the easiest way to make online purchases and to access your order history anytime.
With an online account you'll also be able to place orders 24/7, to confirm payments, and receive notifications. You don't need an online account for individual orders, but it is the easier, faster option.
Provide us with your credit card number to secure your price before buying.
We won't charge your credit card for the amount of your purchase; this is simply to lock in the price and validate the sale. The hold on your credit card will then be released within 5-10 business days.
3
Choose your
payment method
Your options include online bill payment, money order, personal cheque and more.
Payments are due within 5 days. Please note that we do not accept payments using third-party cheques and payments, direct deposits or cash.
Once you confirm your payment, we'll send you confirmation of the purchase.
If you don't receive an email confirmation, check your Spam or Junk Mail folders. Within 2 business days of cleared payment, we'll ship all your packages out, and they'll arrive within 10 business days or sooner.
You May Also Like
International Storage
Your bullion is insured, securely stored and segregated from metals belonging to other clients. You'll even get free shipping on select storage options.
See Storage options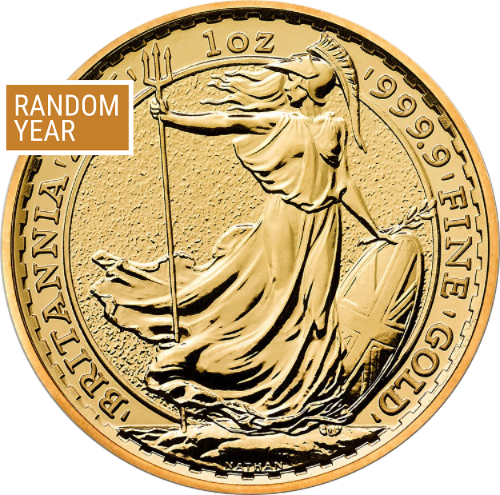 Top Pick
1 oz Great Britain Britannia Gold Coin (Random Year)