Limit Quantity
Mint Varies 1000 oz Silver Bar

Each of these silver bars weighs approximately 1000 troy ounce and are produced by various world renowned manufacturers.
Please Note: each bar has a unique weight and serial number. Bars are ONLY available for storage.
Please CALL to get a price quote and estimated transfer time (1-888-861-0775).
For years, clients like you have trusted us to provide unparalleled guidance, up-to-date insights and high-quality bullion products. As the go-to choice for every kind of investor, we deliver competitive prices that are backed by a reliable reputation.
Call Us For Pricing
Please call for a price quote for this product.
1.888.861.0775
Ordering FAQs
Request a Callback
Silver bars are recognized as highly liquid investment products globally. Known for having lower premiums than silver coins, 1,000 oz silver bars offer the lowest premiums of all sizes on the market.
Each bar is uniquely manufactured, with bars weighing between 930 oz and 1,080 oz and are .999 pure silver. The price of each bar depends on its weight so the best way to purchase them is over the phone. 1,000 oz silver bars are ideal for storage and are only available for clients wishing to store with the Sprott Money Storage Program.
Country of Manufacture

-

Mint

Varies

Origin

Varies

Purity

.999

Dimensions

Varies - Weight varies between 900 oz and 1,100 oz

Average Thickness

Varies
Legal Tender

No

Designer

-

Obverse

-

Reverse

-

Packaging

1 bar

IRA Eligible

Yes

RSP Eligible

Yes
How It Works
Buy bullion in 4 easy steps.
It's the easiest way to make online purchases and to access your order history anytime.
With an online account you'll also be able to place orders 24/7, to confirm payments, and receive notifications. You don't need an online account for individual orders, but it is the easier, faster option.
Provide us with your credit card number to secure your price before buying.
We won't charge your credit card for the amount of your purchase; this is simply to lock in the price and validate the sale. The hold on your credit card will then be released within 5-10 business days.
3
Choose your
payment method
Your options include online bill payment, money order, personal cheque and more.
Payments are due within 5 days. Please note that we do not accept payments using third-party cheques and payments, direct deposits or cash.
Once you confirm your payment, we'll send you confirmation of the purchase.
If you don't receive an email confirmation, check your Spam or Junk Mail folders. Within 2 business days of cleared payment, we'll ship all your packages out, and they'll arrive within 10 business days or sooner.
You May Also Like
International Storage
Your bullion is insured, securely stored and segregated from metals belonging to other clients. You'll even get free shipping on select storage options.
See Storage options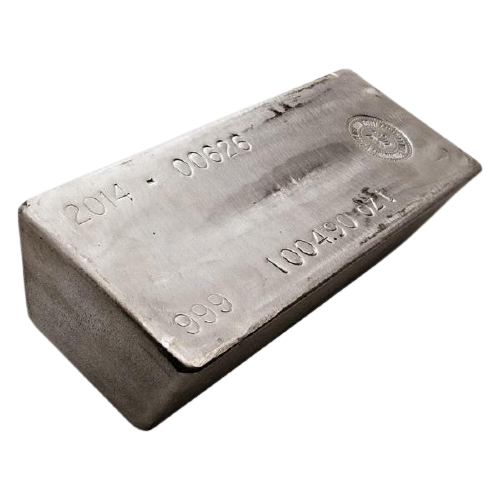 Limit Quantity
Mint Varies 1000 oz Silver Bar