News
COMEX Silver in September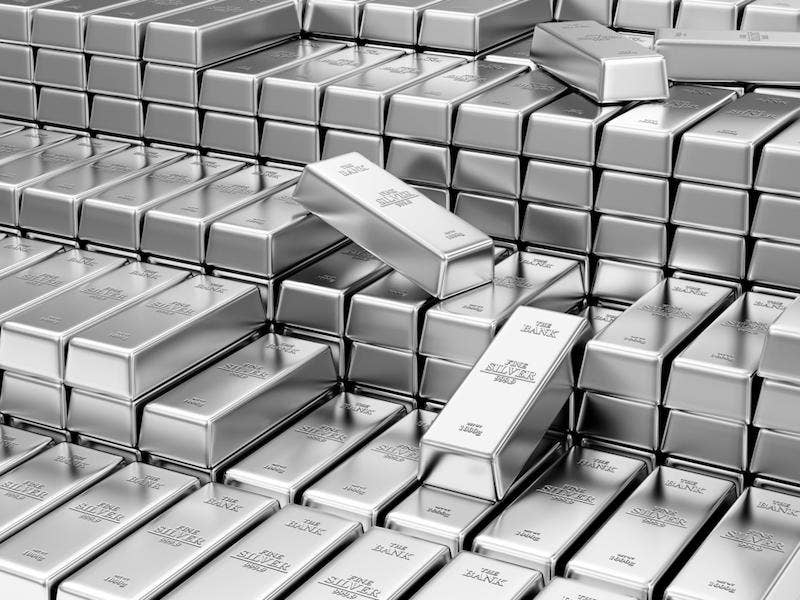 August 25, 2020
As the "delivery month" of September nears for COMEX silver, let's take a look at where we stand and review again what it all means.
This is a topic we've covered often thus far in 2020. Here at Sprott Money alone, I've written multiple articles detailing the breakdown of confidence at COMEX in late March and the lasting impact that has followed. For the purposes of this post, please review these two links before continuing:
https://www.sprottmoney.com/blog/the-cme-opens-pandoras-box-craig-hemke
And for proper context of this post, please also see this concluding paragraph from that June 30 article:
OK, with all of that said, let's now look ahead to the "delivery" stage of the September COMEX silver contract.
As you likely know, since the CME "opened Pandora's Box" in late March, delivery demands for COMEX gold have exploded to all-time records. Since time immemorial, the volume of "deliveries" for gold off of the COMEX has averaged below 10,000 contracts/month for less than 1,000,000 ounces. See this handy chart from the always-gracious Nick Laird at GoldChartsRUs: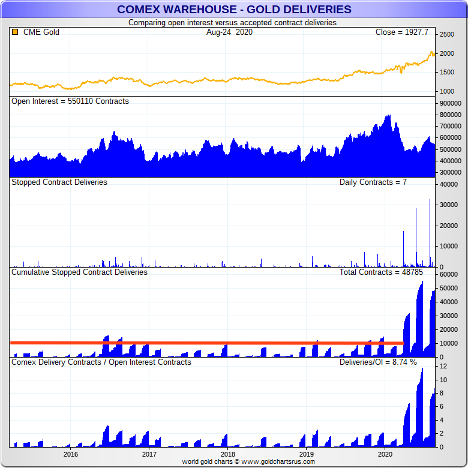 What should catch your eye are the three bars on the right of the chart, which show the total deliveries for the most recent "delivery months" of April, June, and August. Specifically, those months totaled:
April: 31,666 contracts "delivered" for 3,166,600 ounces
June: 55,102 contracts for 5,510,200 ounces
August: 48,785 contracts for 4,878,500 ounces
Those three months alone total 13,555,200 ounces or about 422 metric tonnes. Is this a lot? It certainly is—especially when you realize that COMEX delivered more gold over just these past three delivery months than they did during the ENTIRE PERIOD of 2016-2019.
And now this extreme delivery demand is creeping over into COMEX silver, too. Where the long-term average delivery month totals less than 4,000 contracts or less than 20,000,000 ounces, delivery demand for COMEX silver surged in May and then exploded in July to 17,294 contracts for 86,470,000 ounces.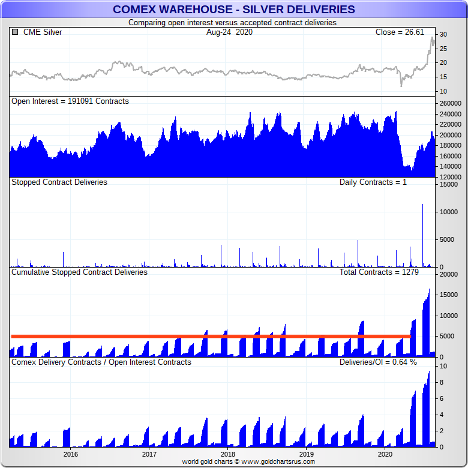 Will we see the extreme delivery demand for COMEX silver continue through the next delivery month of September? We'll have to wait and see, but one hint we can review today may shed some light on the subject.
As I type this on Tuesday, August 25, we have available the total COMEX open interest numbers as of yesterday, Monday the 24th. The Sep20 COMEX silver contract goes "off the board" and into "delivery" at the COMEX close this coming Friday, the 28th. So where does Sep20 open interest stand at present, and how does this compare to the same dates in April and June?
Thursday, April 23: There were 33,192 May20 contracts still open. Eventually, a total 10,543 contracts remained open when the contract went off the board and a total of 9,044 deliveries were made in May for 45,220,000 ounces of silver. That's more than 5% of total annualized global mine supply.
Tuesday, June 23: There were 48,373 July20 contracts still open. Eventually, a total 16,834 contracts remained open when the contract went off the board and a total of 17,294 deliveries were made in July for 86,470,000 ounces of silver. That's more than 10% of total annualized global mine supply.
Monday, August 24: There were 49,647 Sep20 silver contracts still open.
Thus we can deduce that total delivery demands for COMEX silver in September are on track to meet or exceed what was seen in July. Could we see upwards of 90,000,000 ounces of silver "delivered" over the next thirty days? Yes, we sure could. What would this mean? Again, not likely the end of the COMEX and their digital derivative pricing scheme. However, maybe we'll move a few steps closer to the end...and that's what we're all anxiously awaiting!
Finally, could this all be reflected in price next month? As you can see below, the recent pattern since Pandora's box was opened has been price up during the delivery month and then flat the following month.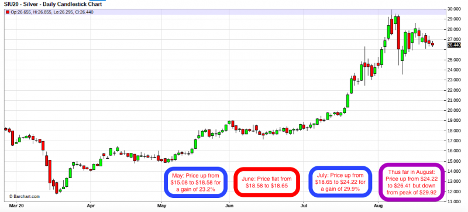 So be prepared for a very busy month of September—in terms of both price and activity within the COMEX vaults. The CME Group changed the dynamic of their precious metal pricing scheme back in March, and the ramifications of this decision will continue to be felt in the days and weeks ahead.
Product Upselling Spotlight
Don't miss a golden opportunity.
Now that you've gained a deeper understanding about gold, it's time to browse our selection of gold bars, coins, or exclusive Sprott Gold wafers.
Top Pick
Royal Canadian Mint 1 oz Gold Bar
Special Price
2023 1 oz American Gold Eagle Coin
About Sprott Money
Specializing in the sale of bullion, bullion storage and precious metals registered investments, there's a reason Sprott Money is called "The Most Trusted Name in Precious Metals".
Since 2008, our customers have trusted us to provide guidance, education, and superior customer service as we help build their holdings in precious metals—no matter the size of the portfolio. Chairman, Eric Sprott, and President, Larisa Sprott, are proud to head up one of the most well-known and reputable precious metal firms in North America. Learn more about Sprott Money.
Learn More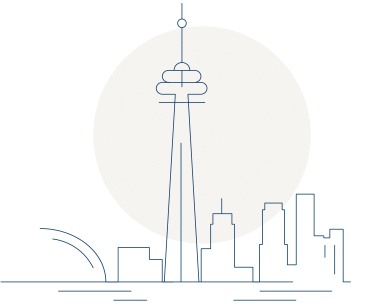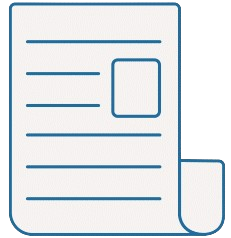 Subscribe to Our Email Newsletter
Don't miss a single insight. Get the latest precious metals news sent to your inbox every week, including our Monthly Precious Metals Projections, Ask The Expert podcast, and the Sprott Money Monthly Wrap Up.