News
Signs the Next Rally in Gold has Begun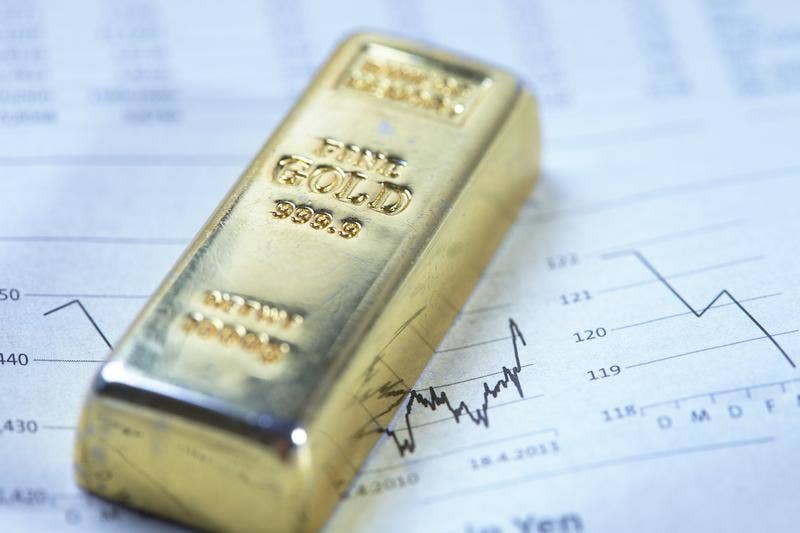 Did you know you can get the Sprott Money Weekly Wrap Ups, Ask The Expert, 
special promotions and insightful blog posts sent right to your inbox?
Sign up to the Sprott Money Newsletter here. 
Using Gold as a proxy for the entire sector, there is little evidence to signal which direction it is going in the short term. Beyond that, we're only going much higher, in my humble opinion.
The technicals are in a vice on a daily and weekly basis: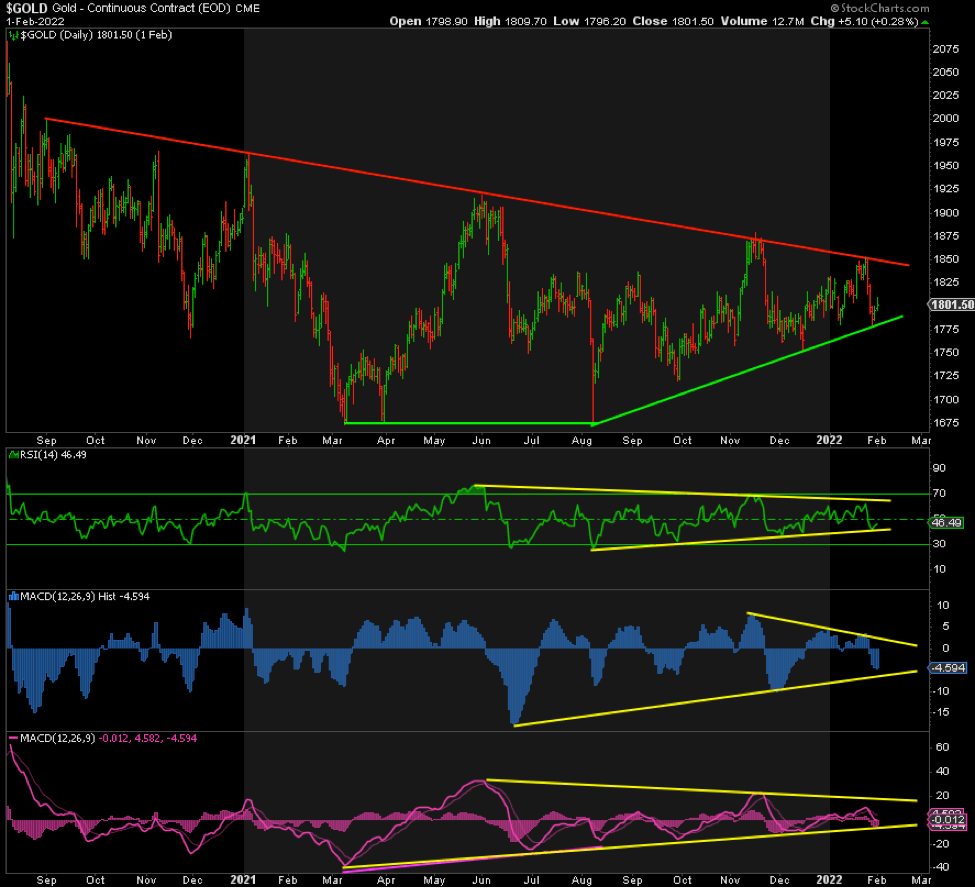 I'm patiently waiting for a break one way or another to provide direction:
The COT data doesn't provide any extremes either. Funds are still holding a healthy long position but nowhere near the peaks of 2019 and 2020 nor the lows of 2018: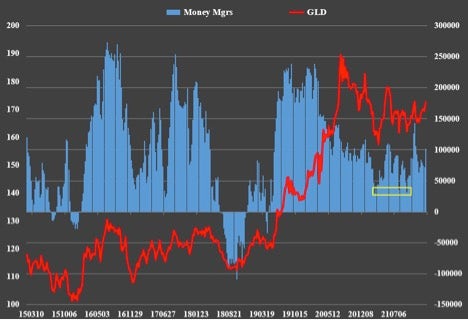 The same goes for the Banks on the short side. They remain very short but well off their peak positions in 2020. They're even further away from neutral when Gold bottomed out in 2018 and 2015.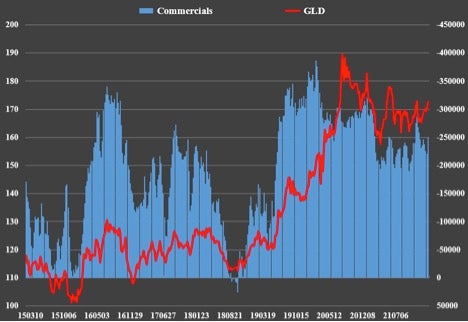 Switching to inter-market analysis, the DXY tends to move inversely to Gold. It has enjoyed a strong move up since May.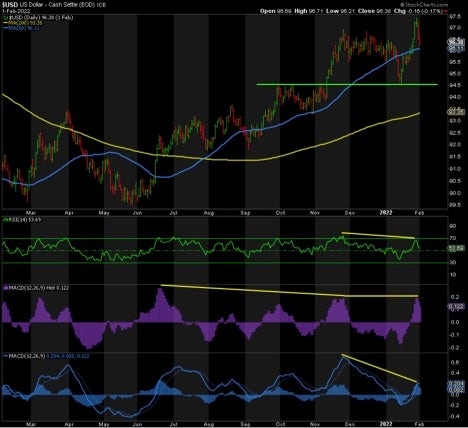 The problem is we don't know if it has already peaked or has one more higher high to come. It has fallen back towards its 50-day moving average, courtesy of the negatively divergent higher high on January 28. But without a break below key support at 94.50, this could just be a short-term pullback before higher. We'll know soon enough based on how high the next move up reaches. A lower high and the peak is probably already in place. If we break the prior high at 97.44, it's just a question of how high it goes before it begins its dump to 89-91, imho. I don't see it going much beyond 100 at most.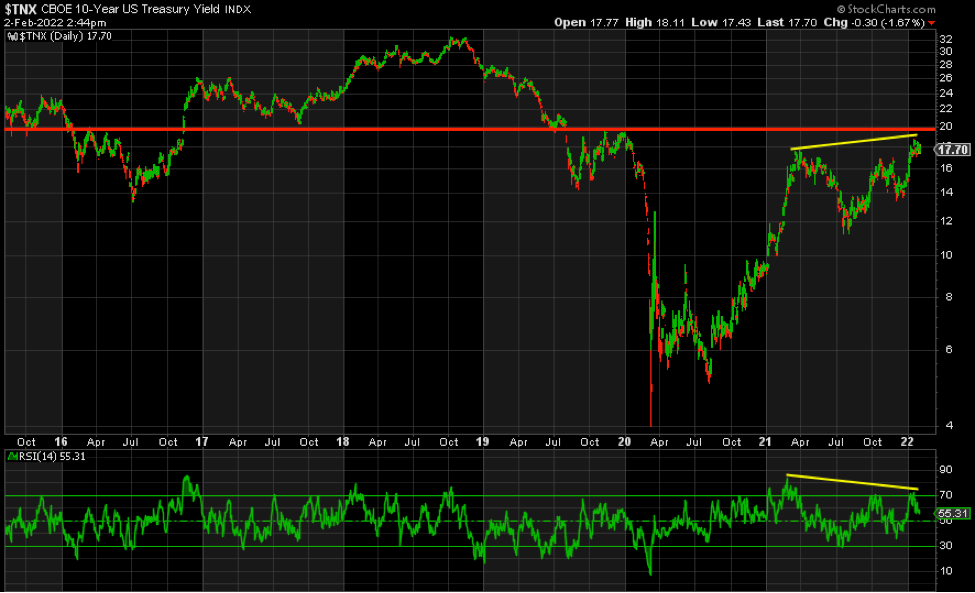 The same situation applies to the 10-Year Treasury Yield. It just hit a negatively divergent higher high and fell back, but there is still room for one more higher high at or above 2%. Lower yields tend to undermine the dollar and support Gold.
More importantly, 10-Year real yields, which have soared since December 30th and have started falling again, could also see high highs before they dump again. Courtesy of Quandl.com:

Falling real yields are perhaps the most supportive indicator of higher Gold prices.
Saving the best until last: the stock market and the Fed. Stocks fell over 10% since the FOMC minutes on January 5, signaling rate hikes and the end of the taper sooner than expected. It has since recovered two thirds of the decline thanks to some softer tones from the Fed along the lines of being "data dependent" and a squeeze of many shorts recently put in place. In a nutshell, the Fed has not walked backed its plan to hike rates 'yet'. Until that occurs, the downside risk in metals and miners also remains.
I can hear you saying, "That's great, Dave, but all I've heard is that Gold could go up or down, which tells me nothing." I am just sharing the indicators that I am monitoring to determine when Gold and the rest of the sector have bottomed out. Perhaps sharing the ideal factors I'll be looking for to signal the bottom is in for Gold would be more beneficial?
1. Daily chart:
a. Extreme low in RSI < 30 or positively divergent lower low in price coming off an RSI of 30 or below;
b. Extreme low in MACD Histogram or a positive divergence coming off an extreme low;
c. Extreme low in MACD Line or a positive divergence.
2. Weekly chart: Extreme low in RSI and both MACDs is sufficient.
3. A sharp drop in Funds' net long position, same in Banks' net short position.
4. Peak and fall in DXY.
5. Peak and fall in 10Y Yield.
6. Peak and fall in 10Y Real Yield.
7. Capitulation in sentiment, i.e., "Many just give up!"
8. Another Fed 180 similar to that in December 2018 but with stimulus on a scale far exceeding that post March 2020.
Not all of these are required, but a combination of several of these factors would provide a great deal of confidence that the bottom is in place and we're heading up to new record highs next.
On a final note, in case you think having all of these factors occur at the same time is "Alice in Wonderland" thinking, they have all played a part in each of the major lows in 2008, 2015, 2016, and 2018, including the Fed.
Product Upselling Spotlight
Don't miss a golden opportunity.
Now that you've gained a deeper understanding about gold, it's time to browse our selection of gold bars, coins, or exclusive Sprott Gold wafers.
Special Price 2021 1 oz American Eagle Gold Coin
About Sprott Money
Specializing in the sale of bullion, bullion storage and precious metals registered investments, there's a reason Sprott Money is called "The Most Trusted Name in Precious Metals".
Since 2008, our customers have trusted us to provide guidance, education, and superior customer service as we help build their holdings in precious metals—no matter the size of the portfolio. Chairman, Eric Sprott, and President, Larisa Sprott, are proud to head up one of the most well-known and reputable precious metal firms in North America. Learn more about Sprott Money.
Learn More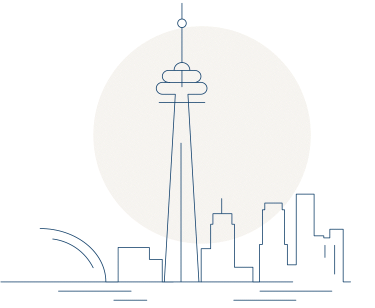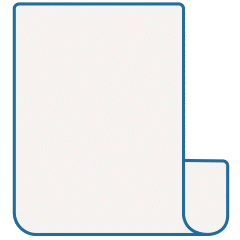 Subscribe to Our Email Newsletter
Don't miss a single insight. Get the latest precious metals news sent to your inbox every week, including our Monthly Precious Metals Projections, Ask The Expert podcast, and the Sprott Money Monthly Wrap Up.