Best Seller
100 oz Silver Bar - Mint Varies

Get the best value on your 100 oz Silver Bars without worrying about the brand.
For years, clients like you have trusted us to provide unparalleled guidance, up-to-date insights and high-quality bullion products. As the go-to choice for every kind of investor, we deliver competitive prices that are backed by a reliable reputation.
When you buy a 100 oz silver bar, receive a product that is guaranteed to be .999 in purity and from reputable manufacturers. When looking to invest in a large amount of silver bullion, these specific 100 oz Silver Bars allow buyers to most effectively order silver without spending too much over the spot. The difference between these particular bars and our brand-specific bars is found primarily in personal preference.
*Bar(s) received may not be exactly as shown but will be of equal value and quality.
*You may experience a slight delay in shipping.
Key Features:
- Each variation consists of .999 pure silver.
- All variations are produced from recognized refiners.
- All bars have met international standards of quality and purity.
Design:
- Obverse: Each bar displays different inscriptions of weight, purity, year and hallmark of their refiner.
- Reverse: The reverse is blank.
Frequently Asked Questions:
1. What is the spot price of precious metals?
The spot price for precious metals is the current price in the marketplace at which a given asset can be bought or sold for immediate delivery.
2. What is the difference between a 'round' and a 'coin'?
Gold, silver, and platinum "coins" are minted by a sovereign government, have a minimum face value, and are legal tender. Precious metal "rounds" are minted by private mints, have no face value, and generally have a lower premium than coins.
3. What is the bid price of precious metals?
The bid price is the highest price a buyer will pay, in this case for gold, silver or platinum. The ask price refers to the lowest price a seller will accept for the precious metal. The difference between these two is known as the spread. So the smaller the spread means the greater the liquidity.
Ready to buy? We are happy to answer your questions. Call us at 1-888-861-0775, or via our email address sales@sprottmoney.com.
Country of Manufacture

-

Mint

Varies

Origin

Varies

Purity

.999

Dimensions

Varies

Average Thickness

Varies
Legal Tender

No

Designer

-

Obverse

-

Reverse

-

Packaging

-

IRA Eligible

No

RSP Eligible

No
How It Works
Buy bullion in 4 easy steps.
It's the easiest way to make online purchases and to access your order history anytime.
With an online account you'll also be able to place orders 24/7, to confirm payments, and receive notifications. You don't need an online account for individual orders, but it is the easier, faster option.
Provide us with your credit card number to secure your price before buying.
We won't charge your credit card for the amount of your purchase; this is simply to lock in the price and validate the sale. The hold on your credit card will then be released within 5-10 business days.
3
Choose your
payment method
Your options include online bill payment, money order, personal cheque and more.
Payments are due within 5 days. Please note that we do not accept payments using third-party cheques and payments, direct deposits or cash.
Once you confirm your payment, we'll send you confirmation of the purchase.
If you don't receive an email confirmation, check your Spam or Junk Mail folders. Within 2 - 5 business days of cleared payment, we'll ship all your packages out, and they'll arrive within 10 business days or sooner.
You May Also Like
International Storage
Your bullion is insured, securely stored and segregated from metals belonging to other clients. You'll even get free shipping on select storage options.
See Storage options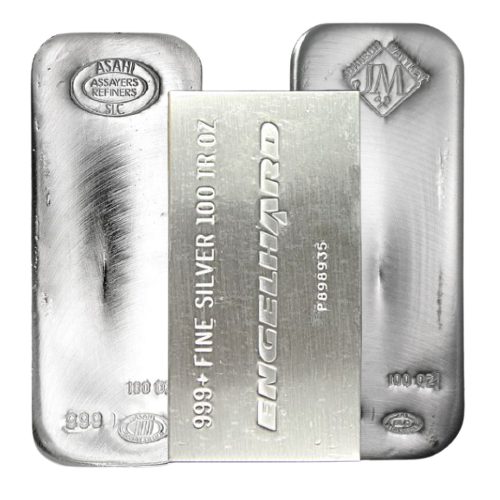 Best Seller
100 oz Silver Bar - Mint Varies