News
Peak Uncertainty: President Trump Contracts COVID-19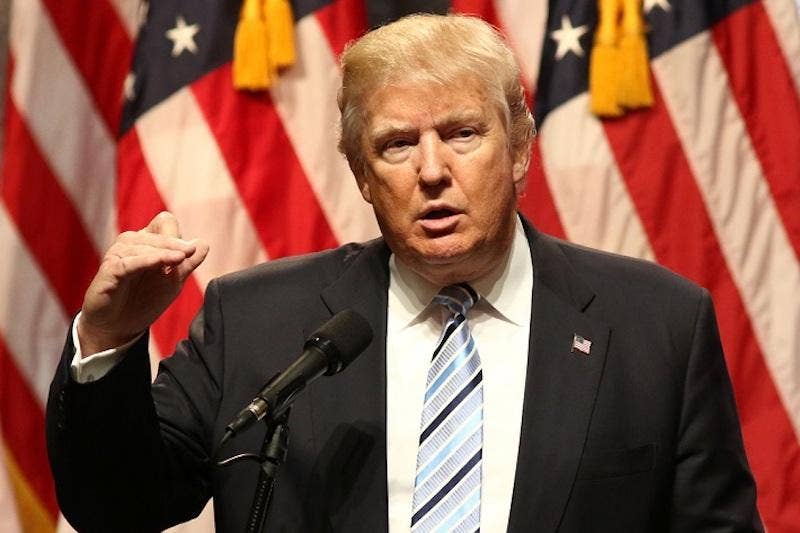 When I stated last week that we hadn't seen the end of the 2020 chaos, I certainly didn't see this curveball coming.
Dominating the news headlines today is the fact that President Trump and the First Lady tested positive for COVID-19. This comes shortly after news broke that Hope Hicks, one of the president's closest aides, contracted the virus.
In true Trump fashion, the president took to Twitter to break the story;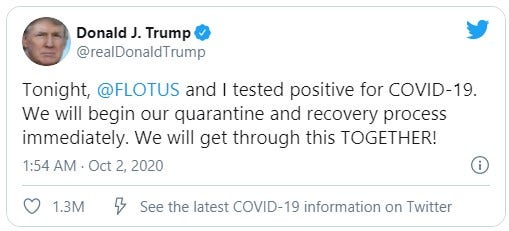 (Source, twitter.com)
This news has once again turned over the already upended and now empty apple cart, as the president's campaign plans have been halted and he is forced to self-isolate for the duration of the virus.
Markets Sent Reeling
Unsurprisingly, U.S. markets across the board reacted negatively to the news, moving sharply lower as this information spread across the world.
The DOW dropped by a significant 400 points, while the NASDAQ reacted even more negatively, shedding 200 points, or 1.7% of its value.
Even more severely impacted were the oil markets, which suffered heavy losses upon learning this news.
Brent dropped by a stunning 5.1%, moving to levels not seen since June, while in New York, West Texas Intermediate crude futures plummeted by as much as 5.4%.
Other oil indexes dropped in a similar fashion, moving sharply lower.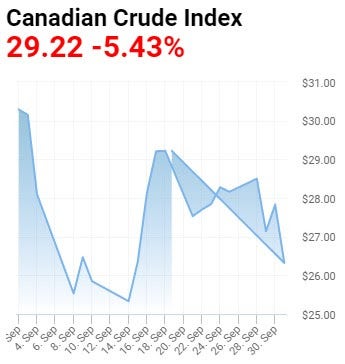 (Chart source, oilprice.com)
This of course will be seen as either an overreaction by the markets or an under reaction, depending on how severely President Trump reacts in the coming days.
At 74 years of age, he is at a heightened level of risk regarding the coronavirus.
If President Trump's health takes a turn for the worse and he is hospitalized—similar to how the UK's Prime Minister, Boris Johnson, was—then you can expect to see what is now occurring in the markets amplified by an untold magnitude.
President Trump is Deemed the Pro Business Candidate
The fact that this news has moved the markets so significantly tells you all you need to know about the general, broad sentiment of market participants. 
President Trump is viewed as the "pro-business" candidate and thus better for the markets as a whole.
Besides the efforts the president has made over the last number of years, with his "America" first agenda influencing the majority of his decisions in regards to international trade, there remains the stark reality that President Trump wishes to keep the economy open, while Joe Biden has suggested that further lockdowns are required.
Wall Street by no means wants the latter and unsurprisingly wishes to see the markets remain open, no matter the ramifications.
This is even further highlighted by today's unemployment numbers, which plunged below 8%, as approximately 661K jobs were added, showing that the economy under President Trump is on track for recovery.
Whether or not you personally agree or disagree with either Joe Biden's or Presidents Trump's course of action matters little, as the markets have spoken through this move, and they are clearly worried about how this news will affect the rapidly approaching election.
Meanwhile, gold and silver bullion are being bought as safe haven assets, and unlike the broader markets, they are holding strong in the face of this news, with gold remaining relatively unchanged and silver moving slightly higher.
Conspiracy Theories and Shameful Comments Run Amuck
Further highlighting the political divide between the left and right is how this news is being digested on social media, with the most toxic of this, as usual, being represented on Twitter.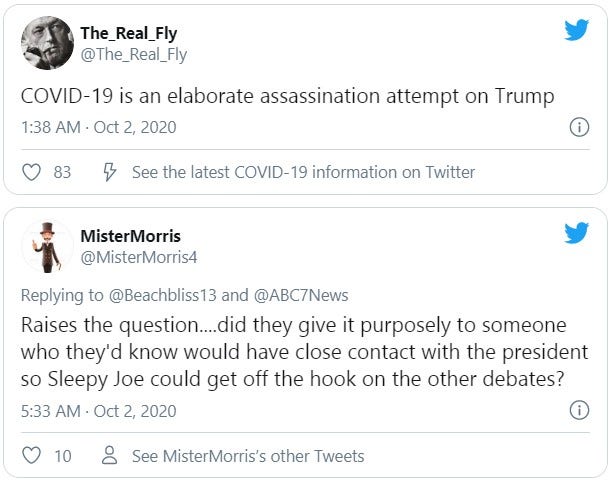 (Source, twitter.com)
Supporters of the president have already begun raising conspiracy theories on whether or not someone close to President Trump was intentionally infected with COVID-19 so as to pass it on to him.
While others on the right are wondering if "getting" President Trump infected with COVID-19 is simply going to be used as cover for assassinating him in another manner, only then to blame the infection as the cause of death.
Meanwhile, those who would qualify as being on the radical left have rejoiced in the news, with many taking to social media to wish the president ill-will, hoping that the infection takes a turn for the worse, killing him in the process.
Already the president's previously shown Twitter announcement that he and the FLOTUS have contracted COVID-19 is the president's most shared / liked Twitter post of all time, and it is filled with both support and heinous, toxic comments.
In Conclusion
We truly do live in interesting times, however maddening and chaotic they may be.
In the coming days we will see a new level of uncertainty, with next week's trading action being filled with extreme volatility as the markets attempt to digest every morsel of news they can acquire about the president's health.
How this will affect the presidential elections and the remaining two debates is yet to be seen. However, one thing is guaranteed: uncertainty will continue to remain supreme.
Stay safe and keep stacking.
Product Upselling Spotlight
Don't miss a golden opportunity.
Now that you've gained a deeper understanding about gold, it's time to browse our selection of gold bars, coins, or exclusive Sprott Gold wafers.
Special Price 2021 1 oz American Eagle Gold Coin
About Sprott Money
Specializing in the sale of bullion, bullion storage and precious metals registered investments, there's a reason Sprott Money is called "The Most Trusted Name in Precious Metals".
Since 2008, our customers have trusted us to provide guidance, education, and superior customer service as we help build their holdings in precious metals—no matter the size of the portfolio. Chairman, Eric Sprott, and President, Larisa Sprott, are proud to head up one of the most well-known and reputable precious metal firms in North America. Learn more about Sprott Money.
Learn More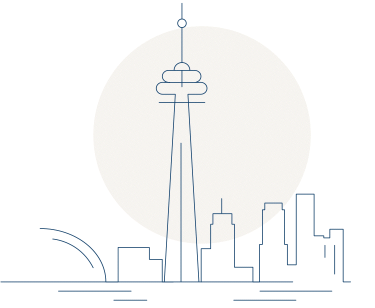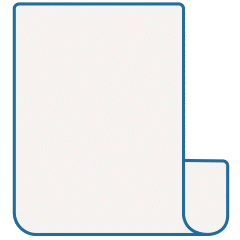 Subscribe to Our Email Newsletter
Don't miss a single insight. Get the latest precious metals news sent to your inbox every week, including our Monthly Precious Metals Projections, Ask The Expert podcast, and the Sprott Money Monthly Wrap Up.